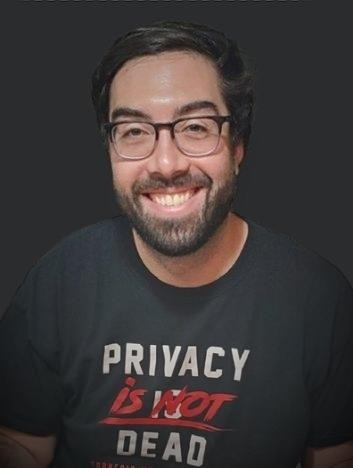 Dr. Daniel Smullen is currently an Applied Scientist working at Amazon with devices and services teams to solve complex data privacy and security problems.
About Me
I'm a proud alumni of Carnegie Mellon University Cylab, where I worked with the founders of the first (and only) Privacy Engineering academic program in the world as part of my doctoral and postdoctoral work. My unique academic training and R&D career has led to patents and a strong track record of publications in top-tier venues within the privacy engineering, PETs, ML/AI, NLP, and HCI domains. My work has given me the privilege of partnering with policymakers, regulators, government/military sponsors, and industry.
My daily duties require me to wear many hats; consultant, problem-solver, scientist, engineer, and thought leader. My work spans Usable Privacy and Security, incorporating mixed-methods methodologies seen in behavioral economics, user-centered design, requirements engineering, applied machine learning, and empirical software engineering. I solve social and technical problems using interdisciplinary research methods. My goal is to help the world develop more usable, secure, privacy-preserving, trustworthy software.
My main areas of interest include privacy, security, responsible AI, autonomous systems, software architecture, and the Internet of Things.
I speak, read, and write in English, German, and French.
Awards
| Title | Institution | Year |
| --- | --- | --- |
| Distinguished Research Award | 13th Symposium On Usable Privacy and Security | 2017 |
| Hima and Jive Fellowship in Computer Science for International Students | Carnegie Mellon University | 2017 |
| Ready-Set-Transfer Technology Transfer Competition Award | 23rd IEEE International Requirements Engineering Conference | 2015 |
| ECSE Engineering Design Challenge Winner | University of Ontario Institute of Technology | 2014 |
| President's Honours List | University of Ontario Institute of Technology | 2014 |
| NSERC Undergraduate Student Research Award | University of Ontario Institute of Technology | 2013 |
| President's Honours List | University of Ontario Institute of Technology | 2013 |
| President's Honours List | University of Ontario Institute of Technology | 2012 |
| Dean's Honours List | University of Ontario Institute of Technology | 2011 |
| Engineers Without Borders Design Challenge Winner | McMaster University | 2008 |
| DaVinci Engineering Design Challenge Winner | University of Toronto | 2007 |